Are Subcontractors Covered Under Contractors Insurance?
It can be, but often is not covered by a standard policy
Whether you are in the new construction or a veteran in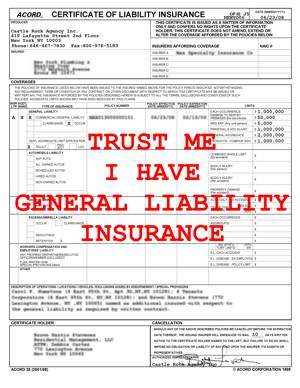 the Ontario province, there are a lot of times when you might need the expertise of a subcontractor. With that being said, you never want to discover that the subcontractor isn't covered under an insurance policy after an incident takes place. If you are hiring a subcontractor, it always pays to make sure that your policy will cover the third party in advance. Otherwise you might end up getting sued or left holding some expensive medical bills. So, does that mean that the subcontractors need to acquire their own insurance policy or are they covered under your basic contractor's policy?

Understanding Your Liabilities When It Comes To Subcontractors
While these subcontractors don't necessarily need to be covered under your liability insurance, you do need to make sure that everyone working on the project is covered by some kind of liability insurance. The reason for this is because if the subcontractor that you hire damages the customer's home, you are going to be liable for the damages. Just imagine if you are remodeling a master bedroom and the client decides that she wants heated floors.
If you hire a contractor that specializes in radiant flooring and they end up destroying the customer's property in the process, you are going to be held liable since you hired them. However, if the subcontractor that you hired is covered under his or her own policy you won't have to worry about the damages. Either way, making sure that the individual is covered one way or another is absolutely pertinent for protecting yourself and your business.

What You Can Do To Protect Yourself And Your Company

As a contractor there are a variety of different methods and techniques that you can undertake to ensure that you are always protected at all times. One of these methods is to ensure that all the subcontractors like glass installers & glass & metal technicians that you hire are protected by their own insurance policies. Never be shy about including this in your contracts, as it could potentially save your business. Just remember that you can always check your subcontractor's coverage by asking to see an up-to-date copy of the subcontractor's Certificate of Liability Insurance. Of course, there are situations when it might not be feasible for the subcontractor to get adequate coverage.
In these situations, adding the subcontractor to your own personalized policy covers you in all situations. When you add a subcontractor to your policy, it ensures that you cover them for the work that they perform under your license and only under your license. This pretty much means that you won't be liable for any mistakes that they make, while they are working under someone else.

Who Really Needs Subcontractor's Insurance?

In a lot of situations, a subcontractor is hired to complete a project. This can be especially true when it comes to the construction industry. There are so many different aspects like flooring, drywall, electrical and heating and air that require a contractor with specialized knowledge and appropriate licensing. Maybe you have the knowledge and skills to build a room or a home, but just don't have the expertise to install the heating and air system? This is when you might have to turn to a heating and air specialist to complete the project. In situations like this, it is imperative that you ensure that the heating and air techs are covered under some sort of contractor's insurance policy or you might end up in serious legal trouble. Anyone working in the construction industry in the Ontario province needs to make sure that they and the subcontractors they hire are covered under their own contractors insurance policy or are added to the hiring party's policy.

Understanding General Liability Insurance

Most contractors that carry general liability insurance make the assumption that the work done by a subcontractor is covered under their own general policy. Unfortunately, this is not always the case. While there are a lot of insurance providers that offer specialized policies and plans, there are some that exclude subcontractors from general liability insurance coverage. It is important for you to always know what your insurance company covers, because you are the one that could be held financially accountable. This is why it is very important to understand why contractors need insurance for their business in the first place as there is a reason behind why most small Ontario construction companies don't work with subcontractors unless they carry their own general liability insurance.
If you are ready to apply for a CGL for your construction business, please request a quote and get in touch with a licensed insurance broker.

Other frequently asked questions before buying insurance:

.
Areas where we commonly provide insurance:

.