Floor Coverings Installation Contractor Liability Insurance
Floor covering installers general liability insurance is required by contractors doing work in residential and commercial properties. Insurance for floor covering installers provides protection to companies when they get sued by third parties as a result of their construction operations in any city like Mississauga, Hamilton, or Brampton.
We can provide a comprehensive policy to floor covering installers which would include coverage for tools, vehicles, and legal expenses. Rates starting for $2 Million at $475/Year. Call 1.888.480.7677 or read below and request a quote.
Learning About Contractors Liability Insurance For Floor Coverings Installers
Ontario, Canada is an amazing place to live and there are plenty of opportunities for those that are willing to work hard. Today, the floor coverings industry is booming requiring contractors to go beyond the traditional scope of their operations. It is not uncommon to see a floor covering specialist taking on a contract for a floor finishing job. This need for more work only creates more revenue for businesses and we are sure that you have probably enjoyed the rise in demand. Nevertheless, you're facing a risk each and every time you provide a customer with your services. There will always be a possibility that the client will become upset with something and that could lead to a major lawsuit in the future. With that being said, it is truly in your best interest to take steps to protect your company from litigation. In Canada, you can obtain contractors insurance but it is very important to understand how to become an insured business.

This type of insurance will protect your floor coverings installation company from frivolous and legitimate lawsuits. General liability insurance for floor coverings installers will be explored in greater depth below.
Exposures Floor Covering Service Providers Face
As a floor coverings installer, you're going to face a wealth of risks. You truly never know what is going to happen from one day to the next. Each and every time you step foot inside of the client's home, you're taking a risk. There is a chance that something you do will end up damaging the client's property. Alternatively, you might actually cause the client to become injured. An incorrect installation from one of your employees could lead to a slip and fall. If that happens, your client is probably going to file a lawsuit against your client.
Since you face so many exceptional problems, it is pertinent to protect yourself as much as possible by going beyond the traditional coverages of standard liability. Many contractors neglect the though of physical injured to themselves. Things go go wrong and people get hurt all the time. If you are doing labour intensive work which can potentially cause damages to your own body, it would be very wise to explore all the health insurance options available to you as a professional. Not only will this provide you a peace of mind, but will also indemnify you in the event you are unable to work due to physical sickness or injuries. The best way to do this is by acquiring floor coverings installers contractors insurance along with a separate policy for health insurance. With the right insurance, you'll be able to shield yourself from these exposures.
What Is The Best Time To Get General Liability Insurance For Floor Covering Contractors?
If you work as a floor covering contractor, you're going to want to get protection as quickly as possible. The truth of the matter is that all Ontario businesses face risks and those risks are always abound. You can never escape the risks, so you should instead find ways to protect yourself. The best way to avoid going bankrupt due to a hefty settlement is by getting insurance right away. This is what general liability insurance is all about. This type of insurance is designed to protect your business from problems leading to bodily harm, injury and property damage.
What is the best time to get insurance? Right now! If you're not covered and continue serving your clients, you need to stop and get covered right now. Do not serve any clients whatsoever, until you've gotten the coverage needed to fully protect your business.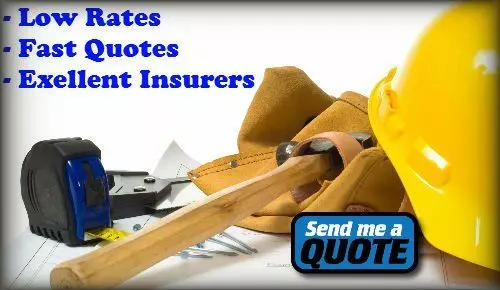 How Expensive Is Floor Covering Contractors Liability Insurance?
There are many factors that drive the cost of flooring installation contractors insurance. Of course, you can start out with a free quote and go from there. However, you must be aware that quotes are only an average cost, not the actual premium, because the process does not go as in depth as the application process.
During the application process you will be asked a series of questions, involving your business and personal finances. Your business history, size of your company, number of people you employee and industry you work in are just a few of the determining factors. Any contractor that is considered high risk will be expected to pay a higher premium than low-risk company. In fact, the higher risk of damages, for example a floor covering contractor are the ones with the largest insurance coverage.
Insurance brokerages understand how contractors operate, which is why they offer a modest down payment and monthly payment options. When you consider the risks involving your high-specialized trade, your best form of financial loss prevention will always be floor covering contractors liability insurance.
How To Obtain Floor Coverings Installers Contractors Insurance
Getting covered with contractors insurance is surprisingly easy. If you have never gotten this type of insurance before, you should consider teaming up with an insurance broker. This individual will be able to walk you through the entire process step by step. They'll also be able to help you obtain cheaper prices and the appropriate limits for your business. Alternatively, you may want to speak with the insurance provider directly. They'll also be willing to help.
Apply for Floor Coverings Installers General Liability Insurance Quote Now!
Frequently asked questions before buying insurance for contractors installing floor coverings:

.
Other types of installation businesses we provide insurance for are:
| | | | | |
| --- | --- | --- | --- | --- |
| | | | | |
| | | | Floor Covering Installation | |