Liability Insurance Quotes for Scaffolding Contractors in Ontario, Canada
What You Need To Know About Scaffolding Contractors Insurance
Scaffolding is classified as a profession that poses risks to everyone involved, from the employee to a passerby. However, scaffolding is in high demand, as it is utilized in construction, window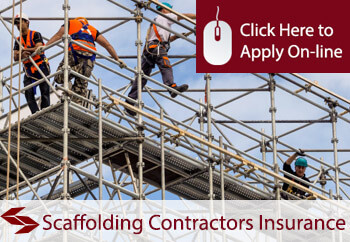 washing and sign installation. This profession offers an array of benefits, but it can also offer disadvantages, since it is associated with so many risks. While there are ways to reduce these risks, they cannot be eliminated completely. So, how are you going to protect your business, employees and others from financial loss, in the event of a mishap working in a city like Toronto or Brampton? The only option will be scaffolding contractors liability insurance.
How To Obtain Scaffolding Contractors Insurance Coverage?
Once you decide that it is time to obtain general liability insurance, you will probably wonder how and where do you go to get it. The answer is simple our Ontario office is conveniently located, so it can be accessed by private vehicle or commuter vehicle. We are a fully operational insurance brokerage that employees qualified, knowledgeable and very help brokers. When you visit or contact our office, we will pair you with one of these brokers, which will help you create an insurance plan that will fit your company to a tee
If you do not have time to visit our Ontario office, please visit our website. We offer free quotes and the option to complete and submit the independent contractors general liability insurance form online. If at any time you face a roadblock, when completing the application, just contact our office and a broker will lead you through the process. Our goal to ensure scaffolding contractors that they have access to a leading Ontario insurer seven-days a week.
The Risks Scaffolding Contractors Face
If you work as a scaffolding contractor, there is no doubt that you're taking enormous risks each and every day. While you might work as carefully as possible, those around you might be careless. While you're working up high, there is a possibility that a client will step underneath the scaffolding. If you're not careful, there is a possibility that something will fall form the scaffolding and it could cause serious harm to the client. The falling object could also cause serious damage to the property. As you probably already know, your company is going to be held responsible. Even if it was another employee's fault, your company will be blamed for the damage or personal injury.
Companies in Ontario are sued all the time and your company is not invulnerable. You might be doing great right now, but that could all change tomorrow. With that being said, it is absolutely essential for all Ontario scaffolding contractors to obtain general liability insurance right now. If you wait too long, you're gambling with your company's future.
Breaking Down The Cost Of Scaffolding Contractors Insurance
As you already know, contractors are not going to get insurance for free. There are tons of risks and insurance providers will want to do everything humanly possible to keep their risks to a minimum. However, scaffolding contractors will be required to pay to limit their risks. When attempting to find out how much you should pay, the insurance provider will consider numerous factors, including your company's history, length of tenure, contracts, and company size. If you've run into various complaints in the past, you can guarantee that your insurance premium will be higher.
Just remember that you might be able to offset the costs to some degree by using a strategic contract. With the right contract, you'll be able to decrease your exposure and push your prices down slightly. You should also consider teaming up with a good broker. A broker will almost always be able to help you get a lower price.

What Scaffolding Contractors General Liability Insurance Protects Against
This type of insurance is designed to protect your company from numerous problems. And, it is vital to realize that these problems could occur with each and every client that you serve. Bodily harm and personal injury are two things that general liability insurance will cover. If your work eventually causes harm to the client, you're going to wind up sued. If you lose in the courtroom, you're going to be forced to pay a hefty settlement. Get covered by insurance to ensure that you're able to avoid paying out of pocket for court costs and the settlement.
The insurance will also protect against property damage. If the client's home has been damaged by your work, you'll be blamed. Again, this could lead to a lawsuit and it could create problems for you in the future. Again, getting covered can help you avoid paying out of pocket for these expenses. There are many reasons why insurance is very important for any construction business. You can visit this page and read more about why contractors should be insured. Otherwise, you can click below and request an insurance quote for your business.

Frequently asked questions before buying insurance for scaffolding contractors:

.