Architectural Glass And Metal Technician Contractors liability Insurance
Exploring The Need For Architectural Glass And Metal Technician Contractors Insurance
Glass and Metal technician liability insurance plays a huge role in protecting architectural glass and metal contractors from potential financial losses related to many factors. Architectural design is just like any
other profession, it is risky and a tiny mistake can cost hundreds of dollars, if not thousands to mend. There is also the risk of not completing a contract per the terms of the agreement. Not keeping these risk factors in the back of your mind and obtaining Contractors liability insurance, you will put your business and license at risk of financial loss.
How Much Is commercial general liability insurance for For Architectural glass and metal technician cost?
Contractors liability insurance costs are typically the same for all professions. However, there are many factors that will increase the annual premium for individual Contractors. For instance, if you own a small company, the actual cost of contractor cgl insurance will be lower than a company that employees hundreds of people. This is only one example, so you should not expect your premium to be exactly the same as your colleagues or other architectural glass and metal technicians.
Rates starting from $525/Year for $2 Million Liability Coverage. 
Apply for a Architectural Glass And Metal Technician general Liability Insurance Quote Now!
Other factors that can affect the cost of contractor insurance are annual profit, nature of work and risk of work. All of these have the potential drive up the premium.
The Risks Architectural Glass and Metal Technicians Will Face
Glass and metal technicians will be able to find plenty of work in a city like Brampton or Toronto throughout the country of Canada. Of course, they'll also face a wealth of risks. In fact, they're taking a risk each and every time they perform a job. They could easily run into a problem, which eventually spirals into a devastating lawsuit. There is a possibility that the glass will shatter and injury someone at some point in the future. This could cause your company to get sued. You should always think like a pessimist.
You should always be prepared for the worst-case scenario. When we talk about things going wrong, a lot of contractors ignore the idea of themselves getting injured. In the event a contractor falls and breaks their leg and is unable to work, they would need to covered under a contractors health insurance policy, which is completely separate from their company's business insurance policy, to be able to make a claim while they are unable to work. Find out what could potentially go wrong and take steps to protect yourself from those problems. This is why all architectural glass and metal technicians need a sufficient amount of contractors insurance.
How To Get Covered
As mentioned above, you're facing a risk each and every time you decide to work with a client. You'll face numerous risks for each job that you perform. You're never safe. With that being said, it is absolutely pertinent to get covered by general liability insurance as early as possible. If you do not get covered early, it might be too late. The good news is that getting covered couldn't be easier. In fact, a lot of modern brokers will help you acquire insurance from the comfort of your own home. Take the time to find a broker in Canada and see what they do for you.
You can generally get insurance through the mail, over the phone and over the Internet. The process is simple and straightforward, so you should have little to no trouble getting the insurance needed.
Understanding General Liability Limits
It is absolutely pertinent to realize that not all policies are equal. Some will protect you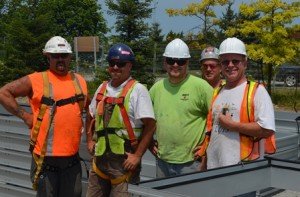 more fully than others. With that being said, you should always go above and beyond to ensure that you get a sufficient amount of insurance to protect your business. If you do not get enough, there is a good chance that you'll be required to pay out of pocket and that could force you into a premature bankruptcy. This is where your limit will play a role. The limits depend on your policy. Some policies will have a specific limit per claim, while others will have a limit per year.
For instance, some policies will pay a maximum of $1,000,000 per claim. Others may pay out two or three million for each year. Make sure that your policy limit is high enough to protect your company and also have insurance protection for subcontractors on the same company CGL policy while you hire through each and every problem you may face. To be on the safe side, it is always best to increase the limit.
How To Lower Claims
Just because you have insurance doesn't mean that you shouldn't worry about lawsuits. On the contrary, you should always do your best to avoid claims. The good news is that there are numerous things you can do to keep your claims to a minimum. First and foremost, you should always try to get the job done right. Secondly, you should always keep an open line of communication with the client. Doing so will allow you to solve problems outside of the courtroom!
Frequently asked questions before buying glass and metal technicians insurance:

.